Description
When it's so convenient to check the temperature, you will do it more often.
So simple to use just pull the trigger! Siblings can get in on the act and it's easy to check your own temperature, even at night.
Very accurate to +- 0.3 degrees
9v battery results in better accuracy than other cheaper models.
This infrared thermometer has an LCD backlit screen and a read time of 1 second.
It operates at a short non touching distance (3-15cm) and is suitable for all the family, including babies.
Surface and Body modes allow you to check the temperature of bath water, milk, food etc..
DELIVERY
We ship worldwide with the following service times due to Covid 19. Apologies it is out of our control.
🇬🇧 UK 15-20 days
🇮🇪  IE 15-20
🇺🇸 USA 15-20 days
🇪🇺 Europe 20 days
🇦🇺 Australia 15-20 days
This is an in demand product given the need to quickly detect Covid-19 symptoms (Coronavirus) of 2020. Ships within 2 days. Services have been updated in the above times to take account of staff shortages in delivery.
Features
Non-Contact Measurement — Portable digital infrared thermometer temperature gun.
℃ measured and shown.
9v Battery has a higher life and capacity resulting in better accuracy than other cheaper models.
Auto OFF function — With a large capacity 9v battery (included) it's going to be there ready when you need it.
Avoid touching the skin, convenient to measure baby to adult temperature with no risk for cross infection.
Instant Read Thermometer — 1 second reading.
Large Screen LCD & Backlit Temperature Display — can be clearly displayed in the dark.
CE Certified (Conformité Européenne)
Product meets EU standards for health, safety, and environmental protection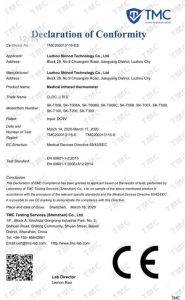 Convenient Memory Feature — You can store up to 32 sets of readings. Logs are recorded for better tracking the changes of body temperature, support clinical fever diagnosis. It is convenient for babies, kids, children, adults, infants and toddlers.
Multi-Mode Thermometer — The infrared thermometer not only supports body temperature reading function, but is able to take the temperature of surfaces ergo objects.
Specifications:
Product Name: Infrared thermometer
Color: White with grey accents
Measuring mode: Non contact
Measure distance: 5cm~15cm(2~5.9 inch)
Body Temperature Measurement Range: 32℃~ 42. 5℃ (90℉~108℉)
Measurement Accuracy: 士0.3℃ (0. 54℉ )
Display Resolution: 0.1℃ (0.1℉)
Operating Environment: 10℃~40℃ (50℉~ 104℉ ) Humidity≤85%
Storage Environment: 0℃~50℃ (32℉~ 122℉ ) Humidity≤85%
Back Light: Highlight green back light
Product size: 150 * 95 * 44mm (LxWxH)
Color box size: 105*60*171mm
Machine weight: 150g (including packaging)
Bare weight: 110g
Power: Standard 9v (LR22 PP3)
Packing List:
1 Infrared Thermometer
1 Manual
1 9v Battery