Description
The next generation in inspired AIRPODS are here with AMAZING SOUND, GPS, Touch Control, Bluetooth 5, operate SIRI, Call & Music Control, IPX6 Water Resistance and Wireless Charging.. just some of the main features. As with all new generation devices new circuitry makes for more efficiency and battery time.
Same size 1:1 same look

SAME DYNAMIC SOUND

these pods make sense.
Delivery times currently poor due to national holidays.
UK 13-17 Days
France Spain Germany Italy 17-25 Days
Scandinavia 18-30 Days
PRODUCT UPDATE 2020
Our airpod clones have the best chipset. This gives superior performance in the things that you really need. We have upgraded this model. What has changed?
GPS- the airpods can work with certain apps so their position can be shown
Rename the connection
💪 They connect even better with a faster popup and easy pairing and auto remember.
🔊 The sound is deeper, richer and simply better than before. You can't perceive any sound difference with real apple airpods 2nd generation! With crisp treble and deep bass. You will not be disappointed with our airpods.
There are no annoying led's or voices.
🔋 Also better battery life means more enjoyment for longer.
FAQ
How compatible are they? If your device has Bluetooth they will work. ANDROID Mobiles PC's Tablets etc and of course Apple devices.
Are these Apple Airpods? No.
Where is my order it has been more than 10 days! Because of the nature of this product which is changing rapidly and we are sourcing at the cutting edge you are better ordering with us because we get the best version at the best current price for you. Also that is why prices can fluctuate. We bring you the best apple airpod clones TODAY.
Extra features:
Touch control- listen to songs and make phone call control
SIRI compatible (apple devices only) voice assist Android with an App
Wireless charging- very convenient
3d high quality super sound with deep bass
Auto connect to device on opening the case and automatic pairing with popup menu on iphone
Binaural use- for calls and sharing music
Highest compatibility via Bluetooth 5- supports all devices with bluetooth, tablet, laptop, mobiles etc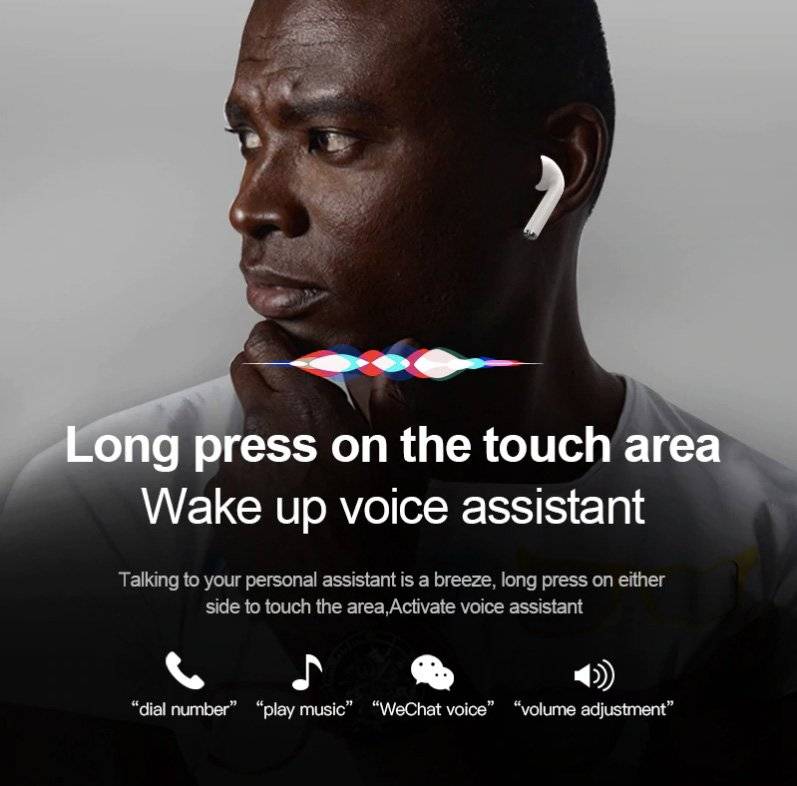 Touch Control Fully Compatible With Bluetooth Devices
x4 Airpod charges from a fully charged case

Amazing 3d Sound With Bass

Attractive and Highly Functional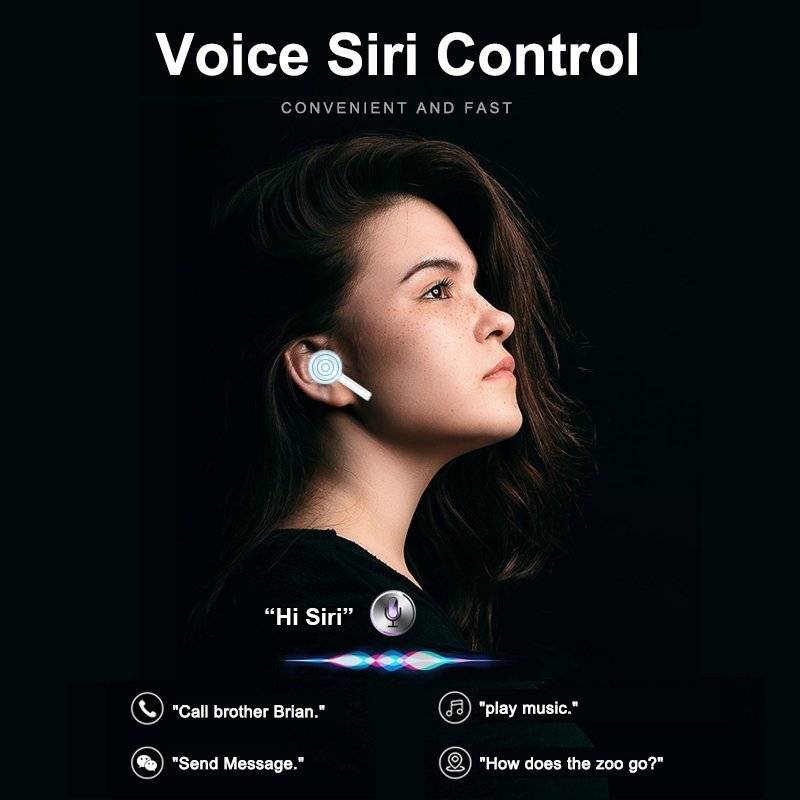 Each package contains airpod style earbuds left and right, charging box, charge cable and manual.
Tech Specs
1. Driver: 15mm
2. Impedance: 32 ohms
3. Bluetooth version: Bluetooth v5.0 + EDR, Jerry 5.0 solution
4. Bluetooth use frequency band: 2.4GHz
5. Power rating: CLASS II
6. Output power: 30mW
7. Bluetooth 5 distance: 15~20 meters barrier-free
8. Frequency response: 20-20000Hz
9. Working voltage range: 3.0V-4.2V
10. Microphone sensitivity: -42dB
11. With A2DP / AVRCP high quality stereo audio transmission and remote control protocol
12. Powerful noise cancellation circuit (active noise reduction)
13. Charging time is about 1 hour (power indicator charging: red light, full power: red light is off (blue light is on).
14. Product size: 53 × 44 × 21mm
15. The net weight of the product is about 32 grams
16. The play time is about 120 minutes
17. Standby time is about 48 hours
18. Battery capacity 35MAH (charging room 350MAH)
19. Charging power supply: DC5V power supply [lighting interface] (computer USB interface, mobile phone charger, car charger)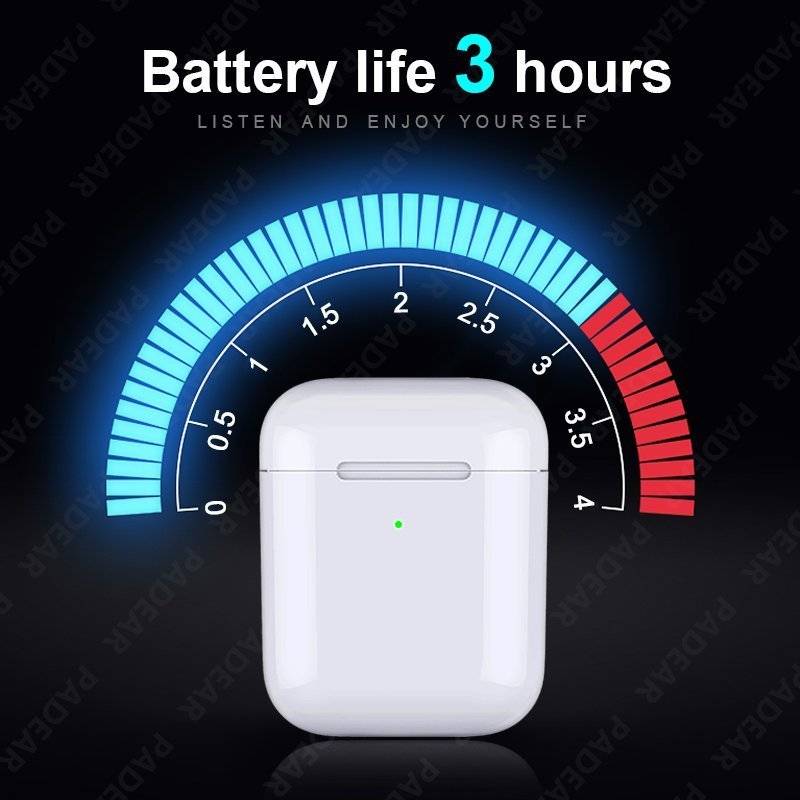 NOW ALSO AVAILABLE IN MATT BLACK!
Don't delay and miss out on this trendy listening experience for a fraction of the cost.