Description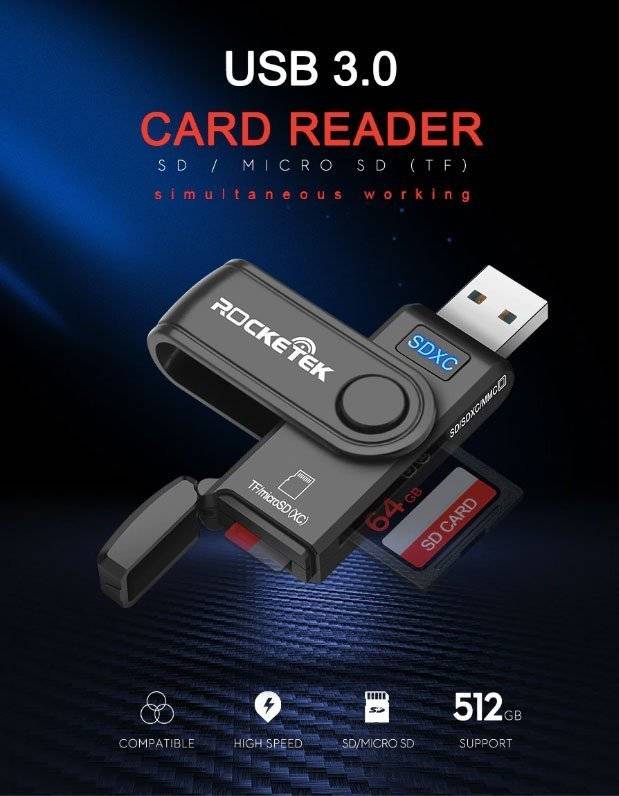 Use the following table to locate your required reader.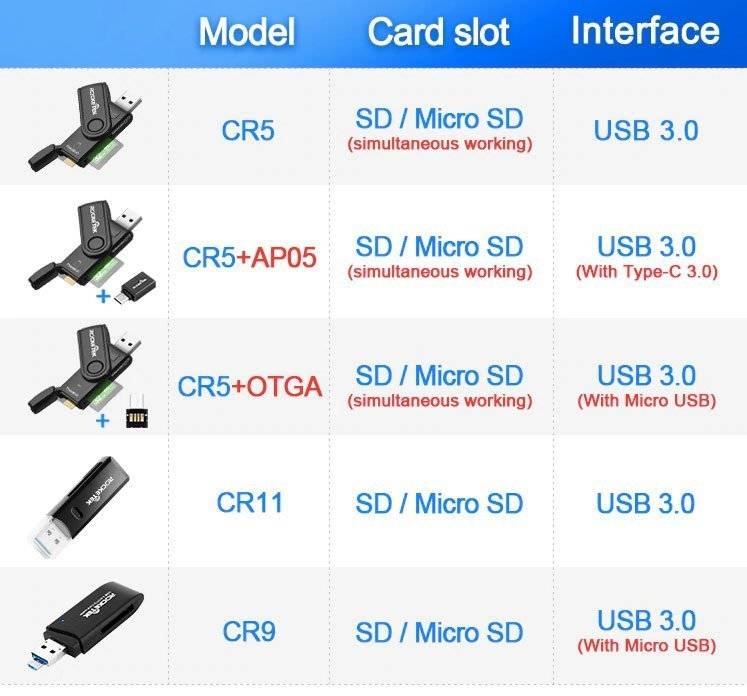 Item Type: Multi-functional Card Reader
Material: ABS
Size: 7 x 2 x 1 cm
Slots: SD/MMC+Micro SD/T-Flash
Indicator: LED
Card Cover: Build-In
Compatible OS: MacOS, Linux, Windows
2-in-1 Pen Drive, Card Reader, Portable Card Hub
(NOT INCLUDING CARDS)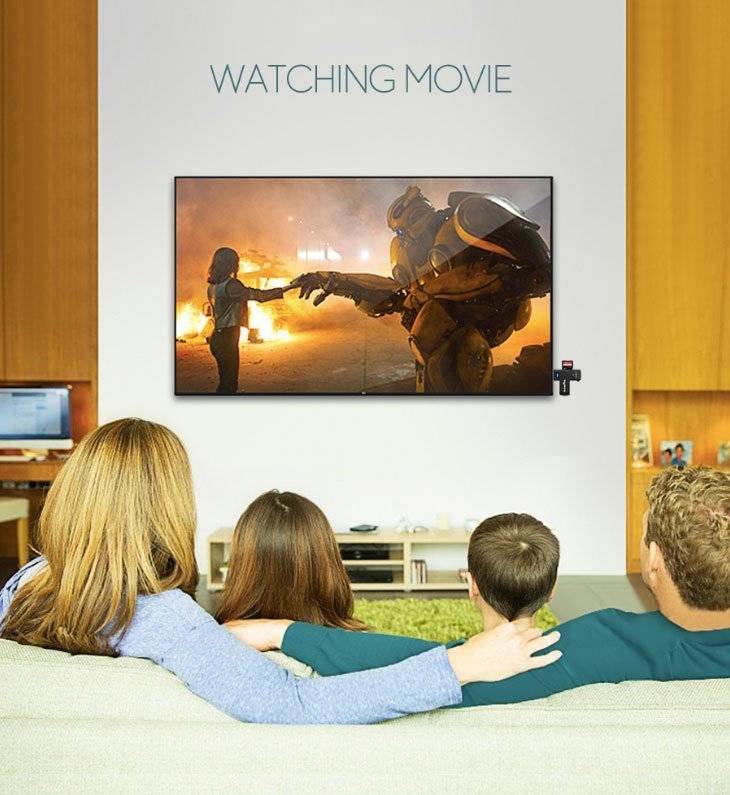 Rocketek® RT-CR5 SuperSpeed USB 3.0 SD Card Reader has easy use, portability and great design, with a build-in Card Cover, it is able to store a Card inside the memory card reader, and don't need to worry about losing the card!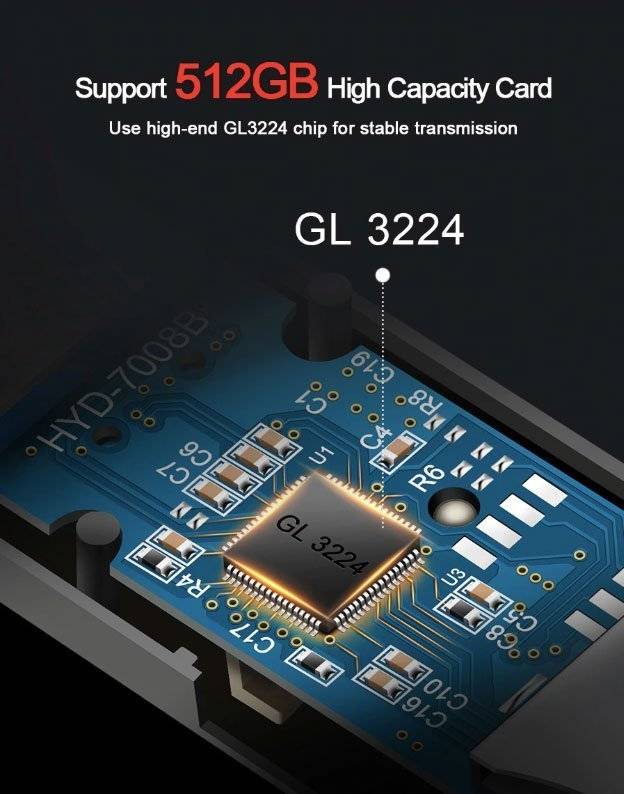 It can be attached to a lanyard or necklace.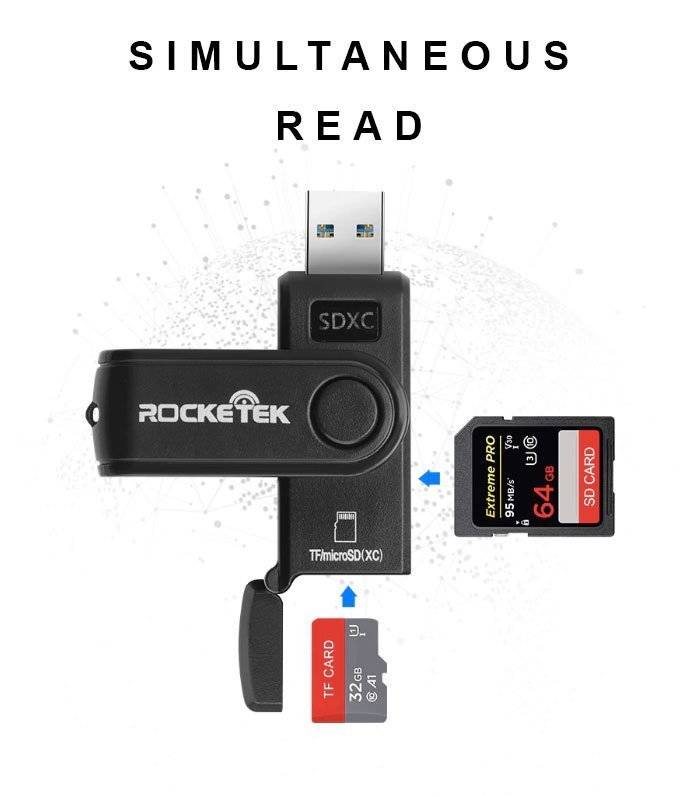 It allows you to easily add a USB 3.0 multi-slot card reader/writer to your USB 3.0 enabled system.

The Rocketek USB 3.0 SD / Micro SD Card Reader is a great option for anyone looking for an easy way add support for the most common storage media types used in common digital cameras, MP3 players, and mobile phones,etc.
Features
-This Card Reader Read 2 different memory cards simultaneously.
-2 slots: SD/MMC + Micro SD/T-flash
-LED indicator for working status
-Build in Card Cover
Card Compatibility
-SD Slot: SDXC/UHS-I SD/SDHC/SD/Extreme SD/Extreme III SD/Ultra II SD/MMC(mini SD/mini SDHC/RS-MMC/HS RS MMC may need a adapter)
-Micro SD(TF) Slot: Micro SDXC/Micro SDHC/Micro SD
System Requirements
*Windows 10, 8, 7, Vista, XP
*Mac OS 9 and above
*Linux: Modern kernel 2.x & 3.x based distributions with USB Mass storage support
2 Media Slots -SD/MMC + Micro SD. Support SDXC up to 2TB, SDHC, SD, MMC, RS-MMC, Micro SDXC, Micro SD, Micro SDHC Card and UHS-I Cards.

Build-in Card Cover Design: It allow you store the Micro SD cards inside the memory card reader, and don't need to worry about losing the cards.
Plug and play; Hot swapping; USB power (no external power or battery); Supper speed USB 3.0 and backward compatible with 2.0/1.1.
Auto detect memory card; Support SDXC up to 2TB, SD V3.0, UHS-I standard, latest Micro SDXC and MMC 4.4.
LED status indicator keep on when the sd card reader connected, flashing when transfering data.